A document management software is a significant component of any online intranet software; learn how it can improve your service for customers and partners, resulting in both saved time and money.
What is a Document Management System?
Your company produces a massive volume of documents every day, and the information they contain is the cornerstone of your success. Each document is tied to different processes. Documents are created, forwarded, checked, stored, and looked for time and again. This takes a lot of your time and resources, which is why it is worth taking the time to create a digital workplace by optimising these processes. This is where the document management system (DMS) comes into play.
Optimisation of daily business processes
Let's look at a business process in more detail, for example, selling a product. From the product request and possible queries through to placing the order and creating the invoice, this process involves a range of documents in both paper and electronic format. The current offer can be stored as an Excel or Word file on the local computer or a server.
Email correspondence with your customer is stored on the exchange or notes server. The order is filed in paper format in the folder, and the invoice is saved in the accounting program. When a customer calls, you need to collect all these documents from their different storage locations.
If a paper document is with a colleague at that moment and the colleague is not there, the process comes to a halt. With this system, your company cannot respond quickly enough, and it has a negative impact on customer relations. Companies that use a document management system have a clear advantage here.
A DMS manages all the documents that accumulate in your daily business and files them correctly in an electronic file cabinet. Every authorised employee has access to these documents from their own workstation.
By searching for predefined index words or running a full-text search across all documents, you can have an overview of the whole process within a matter of seconds. In the results list, all documents are displayed clearly and can be opened at the click of a format, whether they are in paper format, email, MS Word file, fax, or even an image or video file.
Document search results list in Claromentis
With this system, you can respond to queries in a matter of seconds. You save time, and your customers and partners will be happy.
Optimise internal workflows
A DMS can help you to optimise your internal business processes, or what is commonly called workflows.
Let's look at the process of invoice approval. Without a DMS, all documents are forwarded by hand and stay in an employee's position until they are processed even when a colleague is out of the office. If this person later establishes that they are not responsible for the document, they send the invoice back and the process starts all over again. With a DMS, nothing in the actual invoice approval procedure changes.
However, invoices ready for approval are not forwarded in a paper format but electronically, which means they remain stored in the electronic file cabinet. The document manager can check the invoice from any workstation, even when on the road, and approve it with a digital stamp.
During this time, all authorised employees can access the document, and the status of the process is visible at all times. This ensures that documents can be tracked, won't get lost, and because of the fast turnaround, you can easily keep the discount periods.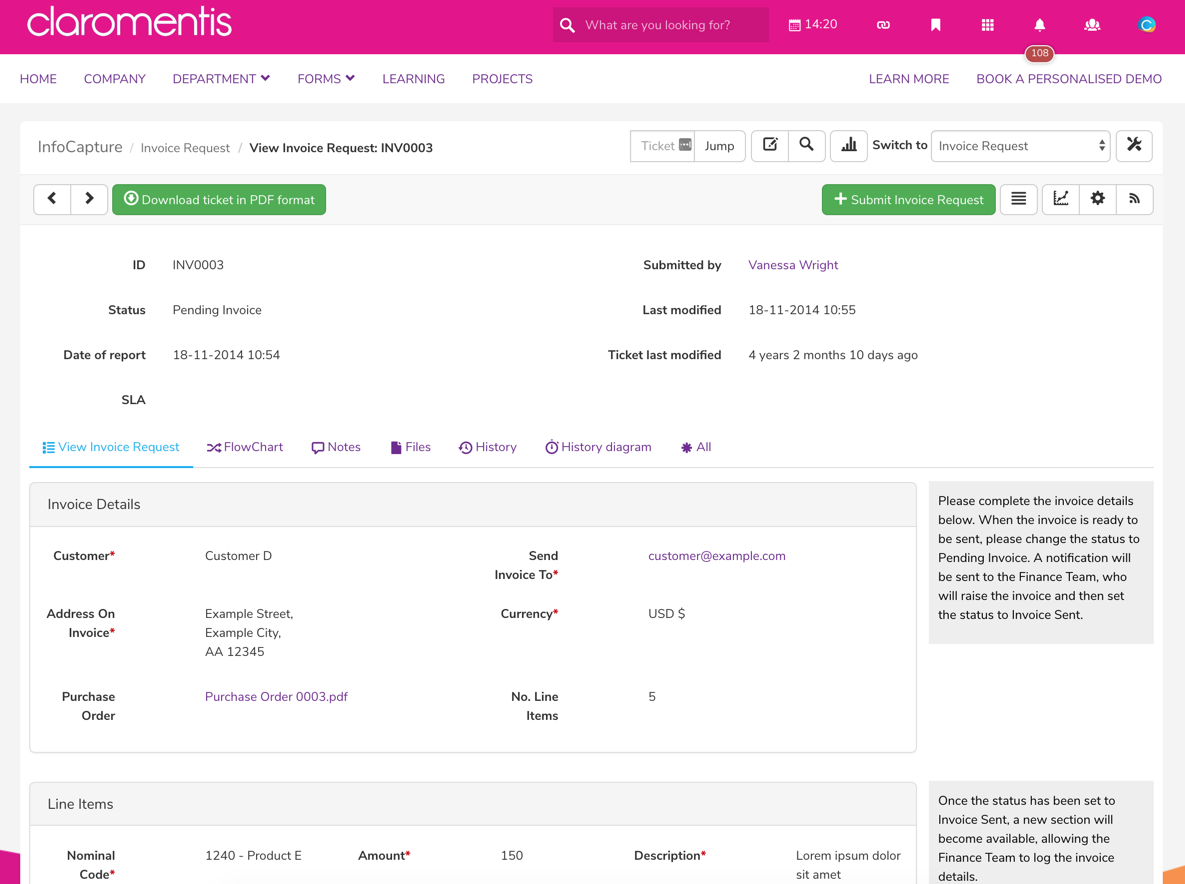 Invoice request e-form and workflow in Claromentis
Storage of documents
Depending on the document type, the digitisation process is either partly or fully automated and therefore extremely simple. Paper-based documents, for example, invoices letters or older printouts, are scanned. After scanning, index terms are assigned to each document. Many keywords can be automatically extracted during the scanning process.
Modern document management systems can also be integrated directly in the software products of numerous other developers. For documents already in electronic format, for example, PDF, CAD, or Word files, all you need to do is drag and drop them into the DMS file cabinet or use a special printer driver.
In this procedure, you can either provide the keywords for subsequent quick searches yourself or use automated mechanisms, for example, for an outgoing invoice that extracts specific keywords directly from the document.
Drag & drop documents into the Claromentis DMS
A DMS can be integrated into any infrastructure and adapted to any company structure. The processes and workflows within the company remain the same. They just run electronically without laborious processes or long waiting times. Documents are collected, sorted, and permanently filed in a digital document pool.
Key benefits
Ultimately, the key benefit of a DMS is that your documents are kept in a central document pool. You can access them at any time, regardless of the file format, date, or author of a document.
After the full or semi-automated storage, you can search the file cabinets very quickly and thoroughly. In addition, you boost your efficiency with workflows that optimise your processes and guarantee transparency. You save space, protect your documents from fire or water damage, and can access them quickly and easily for years to come.